Motherboard Requirements
For maximum compatibility with Digidesign hardware your computer's motherboard should be based on the Intel chipset and meet the ATX form factor specifications.
The ATX form factor is the standard in PC motherboard architecture. If you are unsure whether you have an ATX motherboard look at the back of your computer. If the ports match up with the photo below your computer most likely has an ATX motherboard.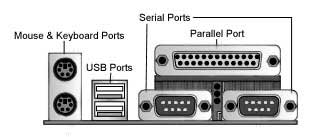 One exception to this is with higher end workstation motherboards that include daughterboards. These are circuit board extensions off of the main motherboard that are not expansion cards. Motherboards with daughterboards do not meet the ATX specification.