iLok Information
Additional iLok Information, Links, Related Documents
What Is An iLok & Why Would I Need One?
Digidesign has transitioned all of our plug-in software copy protection from floppy drive based key disks to copy protection authorizations that reside on the iLok technology provide by PACE. The following is some information about iLok technology, and the current state of Digidesign's copy protection transition.
The iLok USB Hardware Key is a device that holds authorization keys and connects via the USB port to your computer. An iLok USB Hardware Key looks like this: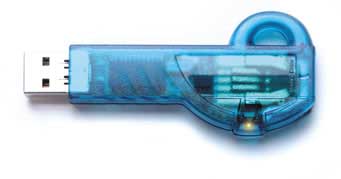 The iLok USB Hardware Key enables you to carry all of your authorizations with you wherever you go using a single key.
iLok is portable, safe and convenient.
It's Portable: iLok enables you to easily move authorizations from one computer to another. Use your software at home, at the office, at a studio, or at a friend's house. iLok makes it portable.
It's Safe: Authorizations are stored in the secure iLok USB Hardware Key — not on the computer or hard drive. iLok is immune to problems caused by machine upgrades, disk maintenance, hardware failures, and software updates.
It's Convenient: Store all of your iLok-enabled software authorizations on a single iLok USB Hardware Key, regardless of developer
Using iLok.com & Electronic iLok License Transfers
Many products that are sold online can be purchased as web-only electronic licenses to activate optional plug-ins and software installed from web downloads or your Pro Tools CD. These include many plug-ins and optional software products sold as "Full License" or time-limited "Rental" licenses available on the DigiStore. For these electronic licenses, no iLok License Card is included or required. Licenses are purchased online, deposited to your iLok.com account, and then transferred to your iLok. This is a quick and easy process that allows you to purchase products online and use them immediately. The following step-by-step instructional videos will guide you through the process of using iLok.com
How to use iLok.com (Instructional Videos)
To view these videos you must have QuickTime installed on your computer, available from Apple's QuickTime website.


These instructional videos have been created and provided by Groovebox Corporation, a leading provider of educational training videos for Pro Tools and other audio software.
About iLok License Cards
Boxed versions of many iLok-enabled software products ship with an iLok License Card in the box. About the same size as a credit card, an iLok License Card holds authorization using the same "Smart Card" technology used on GSM cell phones and American Express cards.
iLok License Card Example:
| | |
| --- | --- |
| | iLok License Card with GSM format license chip detached and ready for iLok authorization |
The chip on the iLok License Card contains the authorization license necessary to activate and run the software you purchased.
| | |
| --- | --- |
| | Simply insert the GSM format license chip into the iLok when prompted by the software. Your software authorizes instantly. |
And, of course, once authorized, your authorizations are stored safely and securely inside the solid-state iLok USB Hardware Key.
Demo Mode with 7.0 Plug-Ins and Software Options
Digidesign 7.0 plug-ins and Pro Tools 7.0 software options no longer include time-limited demos. Instead, plug-in and option demos require an iLok USB Key and an iLok license for evaluation. If you would like to obtain a demo license, please visit individual product pages located on the Digidesign Web site and click the Demo button.
Upgrading Floppy Authorized Versions for Pro Tools 6 and Higher
iLok and Pro Tools Q & A
Q: Do you need to have an iLok to use Pro Tools?
A: Pro Tools HD 7 and Pro Tools M-Powered are the only versions of Pro Tools that require an iLok authorization for the Pro Tools application. Pro Tools|HD Core systems and Pro Tools M-Powered software both include an iLok USB key.
Pro Tools TDM & LE 6.x and Pro Tools LE 7 use serial code authorization for the Pro Tools application and the included DigiRack plug-ins. On those systems, you only need an iLok to authorize optional Digidesign and Digidesign-distributed Development Partner plug-ins and software options on Pro Tools TDM and LE systems running 6.0 and higher software.
Check with third-party developers for their Mac OS X authorization method. (floppy authorizations will not work on Mac OS X, regardless of manufacturer)
Q: Do you need to already have an iLok USB key to register for an iLok.com account?
A: No, you can register for an iLok.com account, and then register individual iLok USB keys at a later date. However, if you do already have your iLok, you do need to have at least one iLok Key registered on your iLok.com account in order to receive iLok.com asset/authorization deposits from Digidesign Customer Service. If no iLok has been registered on the account Digidesign Customer Service will not be able to tell if the account exists.
Q: Does the Pro Tools system need to be connected to the Internet in order to receive assets/authorizations via iLok.com?
A: No. You can download assets to an iLok Key from any Internet-connected computer with a USB port and one of the following operating systems: Mac OS 9.2 or later, and Mac OS X v10.1.5 and later. For Windows you need Windows98, ME, 2000 or XP. You can then use those downloaded iLok authorizations on any Pro Tools system. However, the Internet-connected computer must have the iLok Client Software application installed, which is provided as a download when registering for an iLok.com account.
Q: What platforms support iLok.com?
A: iLok.com now works on both Macintosh and Windows, using Internet Explorer or the latest version of Safari for OS X as the default browser. You need a computer with a USB port and one of the following operating systems: Mac OS 9.2 or later, and Mac OS X v10.2 and later. For Windows you need Windows98, ME, 2000 or XP.
Q: What platforms does the iLok USB Hardware Key work on?
A: iLok is compatible with both Macintosh and Windows. You need a computer with a USB port and one of the following operating systems: Mac OS 8.6 or later (including Mac OS X), Windows 98, Windows ME, Windows 2000, or Window XP.
Q: When will the Windows iLok.com client software will be available?
A: It is available now and can be downloaded after you log in at iLok.com. Please select the Downloads menu item and choose your platform to download. You can now use both Mac and Windows machines to access and use the functionality on iLok.com. The Windows iLok Client software is currently compatible with Internet Explorer only.
Q: Can I use iLok.com on my Intel-based Mac?
A: Yes. Although the iLok.com Client Helper does not yet support browsers running natively on Intel-based Mac, you can still use iLok.com in a web browser that is built as a Universal binary (e.g. Safari). To do so, you must force the browser to run under Rosetta by following these steps:
Click the application's icon in the Finder, such as Safari's icon.
From the Finder File menu, choose Get Info (or press Command-I).
Select the checkbox named "Open using Rosetta."
Close the Get Info window.
This will allow you to use iLok.com for iLok registration, synchronization, and transfer of licenses.
Please note that Pro Tools and iLok-authorized plug-ins and software will NOT work on Intel-based Macs until the release of Pro Tools LE 7.1.1 and Pro Tools M-Powered 7.1.1 for Intel-based Macs, due for release at the end of May 2006.
Q: What happens if an iLok stops working?
A: Please confirm that the iLok Key is plugged into a working USB port and that the light on the iLok Key is on. For more information,go to iLok.com and click on the Help section of the iLok.com website. You will need to create an iLok.com account (for free) in order to use the website.
For replacement of a broken or defective iLok Key, regardless of which authorizations it contains, customers will need to follow the iLok RMA process (Return Merchandise Authorization) as detailed in the Help section on the iLok.com website.
If a customer needs to send their iLok to PACE for replacement, Digidesign Customer Service will accommodate them with temporary 30 day authorizations for all of their registered Digidesign plug-ins. Customers can purchase a blank iLok from their local Digidesign dealer or the online DigiStore to register to their iLok.com account. Digidesign will then deposit the necessary temporary assets to the customer's iLok.com account. These temporary authorizations expire 30 days after they are first deposited on iLok.com.
Q: Are iLok Keys included with plug-in purchases?
A: Individual plug-ins do not include an iLok Key. In order to authorize a plug-in via iLok.com or using iLok License Cards, you must have an iLok Key. The iLok Key is included with some Pro Tools systems (see below) and can be purchased separately from Digidesign Dealers or online from the Digidesign Web Store.
Exceptions:
Digi 002 Factory, Digi 002 Rack Factory, Mbox 2 Factory, and Mbox Factory hardware & software bundled products include a pre-authorized iLok with the Factory Software Bundle. See the Pro Tools LE Products section for more information
Purchases of the 002 Factory or Mbox Factory sofware-only bundles sold separately also include a pre-authorized iLok. Purchases of the Producer Factory and Producer Factory Pro DO NOT include an iLok.
Pro Tools M-Powered software for M-Audio hardware includes a pre-authorized red iLok with the Pro Tools M-Powered software authorization.
Pro Tools|HD and HD Accel systems with the HDpack v6.0 and higher include a pre-authorized iLok with the HDpack software, or an online activation for the HDpack plug-ins beginning in 2006.
Pro Tools|HD and HD Accel systems with HDpack v1.0 through v5.0 include a blank HD iLok and license cards with the HDpack authorizations
Q: I have more than one iLok Key. Is there a way to combine authorizations onto a single Key to free up a USB port?
A: Yes! With the new features of v2.0 at iLok.com, you can now move authorizations from any iLok Key in your iLok account to any other iLok key on that account. You can arrange your licenses in anyway you like on your multiple iLoks. If you wish to use multiple iLoks, purchasing a powered USB hub will allow you to employ multiple iLok Keys if you do not currently have additional USB ports available on your system.
Q: Which USB port should I plug the iLok Key into?
A: The iLok Key should work in any available USB port on your system; this includes the ports on Apple USB keyboards. However, some users have reported problems with their computer failing to recognize the iLok Key when installed in an Apple keyboard port. If you experience this problem, insert the iLok Key into one of the available USB ports on the CPU, or use a powered USB hub.
Q: Can I assign a password to my iLok?
A: Digidesign does not support assigning passwords to an iLok Key. You will not be able to register your iLok at iLok.com if it has been password protected.
If you attempt to use this feature, you should document your password. Make sure not to lose it as there is no way to reset the password without returning the iLok to PACE. If you lose your password, you will need to arrange for this with PACE using the RMA (Return Merchandise Authorization) Form located in the Help section at iLok.com — in order to get an RMA number. PACE charges $10.00 plus shipping to remove the password from your iLok and return it.
New Internet Activation Feature
Q: What is Internet Activation and how can I use it for authorizing plug-ins?
A: Internet Activation is a feature introduced with Pro Tools 6.4 that allows you to purchase and authorize plug-ins directly from the Pro Tools application. In order to use Internet Activation an iLok USB dongle needs to be connected to your system and your computer needs to be connected to the Internet.
Note: Internet Activation is not available for all Digidesign and Digidesign-distributed plug-ins at this time.
To use Internet Activation:
After installing a new plug-in you will be prompted for authorization the next time you launch Pro Tools.
To obtain a demo authorization click the button that says "Try". To purchase a plug-in and obtain the full license, click the "Authorize" button.
In the next window, make sure the "use license card" box is not checked and click Next.
Select the option for Internet Activation and click Next. You will be linked to the Digidesign Internet Activation page online where you will be required to log-in.
If you have chosen to download a demo authorization, follow the prompts on the screen.
If you have chosen "Authorize" to purchase a plug-in, select Full License and click the Buy Now tab.
Follow the instruction for entering your shipping and credit card information.
Once the transaction is processed the demo or full license will be transferred directly to your iLok.